---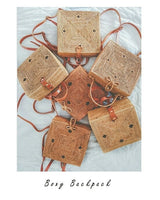 One of its kind of box rattan backpack. 
Free shipping worldwide.
On average this rattan back pack will be at your doorsteps within two to five business days.
A beautiful mix of nature and modern, these rattan backpacks are also known as mid-century modern of handbags are purses. This very beautifully handcrafted bag is one of its kind, hand woven from real and natural Ata Reed and Rattan in the traditional village of Lombok, east of Bali, Indonesia. This is a unique and artistic bag results in a very special round woven rattan cross body shoulder bag which will give years of service. 
This woven rattan backpack street style will match any outfit whether it's your casual evening jeans or summer style, this is the perfect size for any your mobile phone, wallet, lip balm, sunnies and much more! It comes in the traditional half-moon rattan clutch, ribbon closure and is lined with traditional batik inside. The color and print of the batik lining inside varies in each bag. As each rattan summer bag is handmade it may vary very slightly in size and detail so you will know that your bag is unique and has its own character. Small colour differences in the reed are also part of the nature of this item. This is a natural eco-friendly product. Once woven, these square rattan bags are 'smoked' in a traditional oven over coconut husks as part of the drying process to add strength and durability. We air the bags to let the smoky smell disappear naturally.
On average you will receive the rattan bag within two to five business days, we ship using the fastest method. For any reason, if there is a delay we will send you a message. 
We also do wholesale rattan bags. 
Any questions please feel free to let me know. 
Email: boholivingroom@gmail.com