---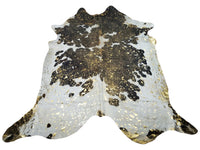 Add a touch of luxury to your home with this exquisite dark cowhide rug, featuring an exotic gold metallic sheen. Enhance your space with unique style and texture.
You will receive the cowhide rug shown in the picture.
Free shipping all over the USA.
The size of this cowhide rug is approx 90 by 84 Inches.
On average at your doorsteps within one to four days.
Exotic gold metallic on dark cowhide rug: The epitome of luxury and sophistication. When it comes to cowhide rugs, there is no better choice than our collection of exotic gold metallic on dark cowhide rugs. Crafted with utmost care and precision, these cowhide rugs are the perfect addition to any interior space seeking a touch of opulence. Made from real and natural cowhide, each cow rug has been meticulously selected for its unique pattern, ensuring that no two pieces are alike.
Not only do these cowhide rugs exude elegance, but they also offer unparalleled softness and smoothness underfoot. With every step you take, you'll be greeted by their plush texture that adds a cozy element to your home decor. Whether placed in your living room, bedroom or study, they effortlessly elevate the aesthetic appeal of any room. 
Are you looking to add a touch of elegance and uniqueness to your home decor? Look no further than the best cowhide rugs in the USA, carefully selected for their exotic markings. Whether you prefer the stunning brindle metallic or the sleek grey metallic, each cow rug will have its own distinct touch that is sure to elevate any space.
Cowhide rugs are known for their versatility and durability, making them a perfect addition to any room in your home. From living rooms to bedrooms, these rugs can effortlessly tie together different design elements while adding a touch of natural beauty. The exotic markings found on these cowhide rugs make them truly one-of-a-kind pieces that will be sure to catch the eye of anyone who enters your home.
With each cow rug having its own unique touch, you can be confident that no two rugs will ever look exactly alike. Introducing our exquisite collection of gold metallic cowhide rugs. Each cowhide rug in this premium Brazilian line boasts a captivating shine and impeccable thickness, ensuring unrivalled quality. Our meticulous selection process guarantees that every cowhide rug showcases unique exotic patterns and markings, making it truly one-of-a-kind.
Much like all our other cowhide rugs in the USA, this particular design is both large and stunning, allowing it to effortlessly elevate any space it graces. The blend of natural brown and black tones with striking white edges adds a touch of elegance to modern rustic interiors, while also perfectly complementing western farmhouse aesthetics. Moreover, these beautiful cowhides are versatile enough to add a touch of charm to southern weddings, enhancing the ambiance with their distinctive beauty.
Designed to merge seamlessly with various styles, this gold metallic cowhide rug becomes an enchanting focal point in any room or event setting. Its radiant hues and intricate markings capture attention and exude sophistication, instantly transforming ordinary spaces into havens of refinement.
Crafted with utmost care from premium Brazilian materials, these cowhide rugs warrant durability alongside their aesthetic appeal. Whether placed underfoot or displayed as a decorative wall hanging or draped over furniture, they promise long-lasting beauty that withstands the test of time. These natural, genuine metallic cowhides have a very short and soft hair on top, which is finished to suede on the back. These cowhide rugs do not require any additional padding and are suitable for all types of floors and layering. They are ideal for high traffic areas and are naturally resistant to stains, without any shedding or unpleasant odor.
Embrace the allure of nature's finest designs by adorning your space with one of our luxurious gold metallic cowhide rugs. Experience the fusion of premium quality and striking visual appeal that will undoubtedly leave a lasting impression on anyone who enters your realm of style. 
Any questions feel free to email us at boholivingroom@gmail.com