---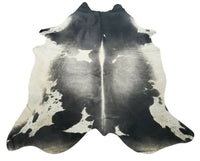 You will receive the dark gray cowhide rug shown in the picture.
Free shipping all over the USA.
The size of this dark gray cowhide rug is 95 x 79 Inches.
On average at your doorsteps within one to four days.
All our dark gray cowhide rugs are hand finished, chromium tanned, hundred percent natural and real, very soft and smooth hairs on, with back finished to suede, are perfect for any room, floor rug or any kind of upholstery project. 
These cowhide rug living rugs room are perfect for a wall hanging or draped over your furniture. A lot of my clients also take these cowhide for camping, sometimes they use it to sit on it and sometimes they just make a blanket of it.
Any questions please feel free to send me an email: