---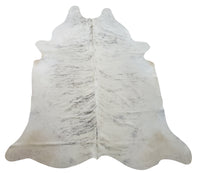 Sale
Enhance your home decor with a luxurious, authentic cowhide rug. Buy a new large cowhide rug in USA for an exquisite touch of nature.
Free shipping all over the USA. 
The size of this gorgeous real cowhide rug is approx 90 X 74 Inches. 
You will receive this cowhide rug grey within one to four business days. 
Introducing the stunning grey dark brindle cowhide rug, meticulously hand-finished to ensure unparalleled quality. Crafted using chromium tanning techniques, this cowhide rug boasts a hundred percent natural and authentic composition that exudes elegance. The soft and incredibly smooth hairs that adorn its surface provide a luxurious feel underfoot.
Not only is this cowhide rug visually appealing, but it is also functional. Its suede finish on the back ensures maximum durability while adding an extra touch of sophistication. Whether you're looking to enhance your living room or revamp your upholstery project, these light cowhides are the perfect choice.
What sets these real brindle cowhide rugs apart from the rest is their incredible stain resistance ability, making them low-maintenance and hassle-free to clean. Additionally, their wrinkle-free nature guarantees long-lasting beauty without the need for constant upkeep.
Bringing both style and functionality into any space, this grey dark brindle cowhide rug offers versatility like no other. Its neutral tones seamlessly blend with various color schemes while creating a focal point with its unique brindle pattern.
Immerse yourself in luxury and invest in a cow rug that marries natural beauty with exceptional craftsmanship. Experience ultimate comfort and indulge in the pure pleasure of walking on this incomparable creation. Make your floors come alive with the captivating allure of this real brindle cowhide rug today. Discover the rarest and most exquisite cowhide rugs in the USA. Transform your space with these unique and exotic statement pieces today. 
Any questions please feel free to email us anytime at boholivingroom@gmail.com