---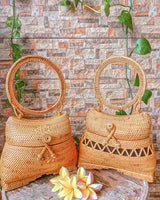 You have reached the right place for street level rattan bag, we have over hundreds of styles in stock. 
Our boho rattan bags are free shipping Worldwide. 
At your doorsteps within two to five business days. 
round rattan bag street level boho style for beach are only handwoven in Bali. 
In the vast volcanic foothills of Bali, Indonesia, artisans gather sturdy "ata" grass and carry it to their work space for weaving. The result is this round rattan beach bag with lather stitched into either side. Finished with colorful variations of fabric lining, the piece is as beautiful as it is durable. It also makes a unique gift for fashionable friends who cherish their one-of-a-kind designs. 
Please Note: All of our rattan bags are handmade therefore some of these bags may have slight variations in design  size color and hardware/fastenings. This is a natural occurrence in hand made boho rattanb bags and one of the many reasons we love it! Due to the handcrafted nature, no two designs will be exactly alike giving you a lasting one-of-a-kind product to treasure for years to come. The material Ata is a reed, making these straw bags strong and durable. The pieces are all " smoked" over coconut husks as part of the drying process, which adds beautiful patina and leaves the bag with a slight natural scent that disappears over time.
Any questions: boholivingroom@gmail.com