---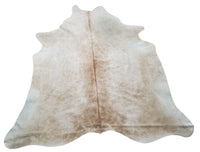 Discover a timeless piece for your home - this natural cowhide rug made from premium beige leather. Perfect for adding warmth and style to any room.
The size of this beige cowhide rug is approx 82 X 80 Inches. 
You will receive the beige cowhide rug shown. 
Free shipping all over the USA. 
Natural cowhide rugs have become a popular addition to home décor in recent years, and for good reason. Not only are they stylish and versatile, but they also offer durability that traditional rugs cannot match. Among the many options available on the market, solid beige natural cowhide rugs stand out as a timeless classic that can complement any space.
The neutral color of solid beige cowhide rugs allows them to blend seamlessly with any existing color scheme or style. Whether your room is modern, rustic or traditional in design, this rug will add texture and warmth without overwhelming the space. The unique grain patterns and markings of each individual hide also give these rugs a distinct character that cannot be replicated by machine-made synthetic options.
In addition to their aesthetic appeal, natural cowhide rugs are also practical choices for high-traffic areas of your home due to their durability and resistance to wear and tear. Cowhide rugs are undoubtedly the most stylish and versatile décor items that you can add to your space. When it comes to choosing a cowhide rug, there is an endless array of options available in the market. However, if you are looking for the best quality cowhide rugs in USA, then choose natural, authentic and genuine ones.
These type of cowhide rugs are sourced from Brazil where they are ethically sourced. The cowhides are then tanned in their natural colors which makes them unique and beautiful. These types of cowhides are durable, easy to clean and hypoallergenic making them perfect for any space or interior.
The texture of these natural cowhides feels amazing underfoot with its softness, plush feel and warmth that instantly adds a cozy vibe to your home or office. 
Any questions email us at boholivingroom@gmail.com